SOREGASHI EBISU—jummai-shu izakaya in Ebisu
掲載
Osakelistユーザーの評価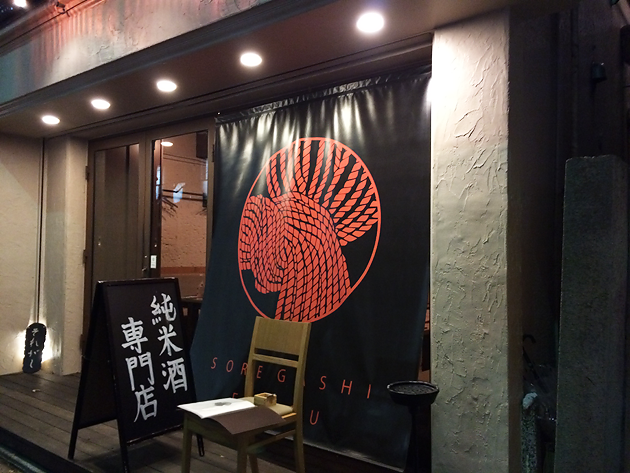 Hi, I'm Kaneda, the editor of this website, Osakelist.
Today's place is Soregashi in Ebisu of Tokyo, which is dedicated to jummai-shu, unfortified sake simply made of rice and koji. This is the newer outlet of the two and just opened in June 2014. (The older one is in Gotanda.) Drawn by their unique style and passion for jummai-shu, I had always wanted to come here.
The ambience was modern and chic. A bottle of water was set ready on each table, which I thought was nice and considerate service.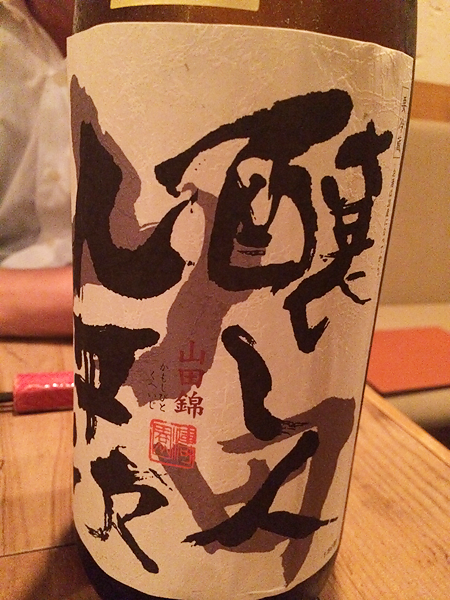 "醸し人九平次 山田錦(Kamoshibito-Kuheiji Yamadanishiki)", a high-end sake from Banjo Jozo of Nagoya. Good naming and powerful design of the label have made the sake even more attractive. I would like to thank Kuheiji who made this excellent taste. Does he live in Nagoya?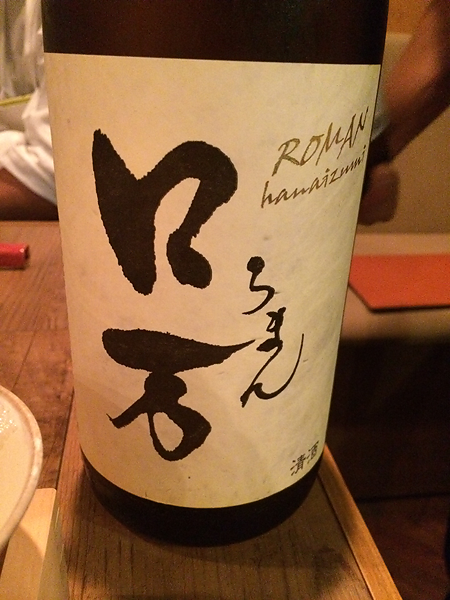 "ロ万(Roman)" from Hanaizumi Shuzo. My first experience of this sake turned out to be great. I liked the "romantic" feel in particular. Hanaizumi Shuzo, the brewery of Roman, operates in Minami-aizu of Fukushima Prefecture. I wonder if the brewers there are romantic. Romantic in the Aizu area—I really want to see them.
Besides Roman, the brewery also makes "一ロ万(Hito-roman)", which is unpasteurized, unfiltered and undiluted first pressing of the year; "ZEROMAN"; "七ロ万(Nana-roman)" and others. I want to try them, but seems like they are heard to come by. One of the brand is called "十ロ万(Toroman)"…Umm sounds somewhat sensuous….
I tried warmed sake, too. Gently-warmed jummai-shu is always a tempting choice.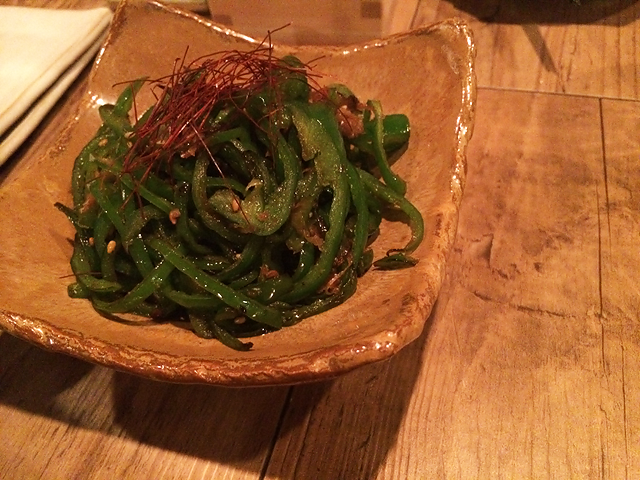 Not only sake but also sakana (accompaniment to sake) tasted so good here, all carefully prepared to make good matches with sake served at the pub. The above picture is kimpira (salty sweet dish of vegetable—usually burdock—sautéed with soy sauce-based seasoning) of bell pepper. A new way of eating bell pepper, so good with sake! Though the singer Aki Yashiro sings in her song that she will go for seared squid for an accompaniment to sake, I would go for bell pepper kimpira.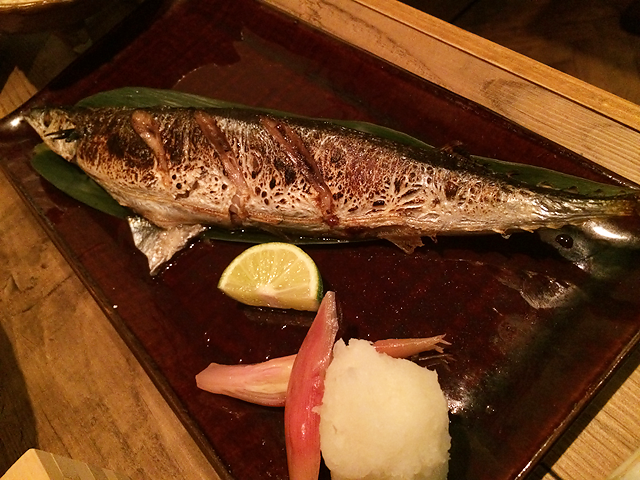 Samma (Pacific saury) sprinkled with salt. Seasonal food makes a good pairing with jummai-shu.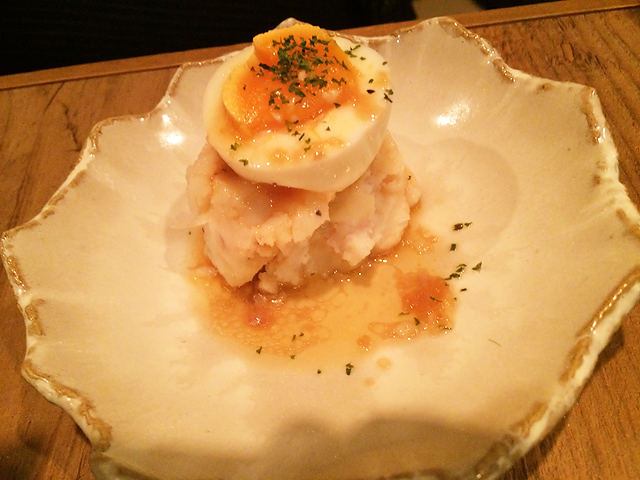 This potato salad, the pub's recommendation, had an addictive taste that made me want to eat again. It unexpectedly went well with sake. The soft-boiled egg at the top would surely be something you fight over if you have company with you.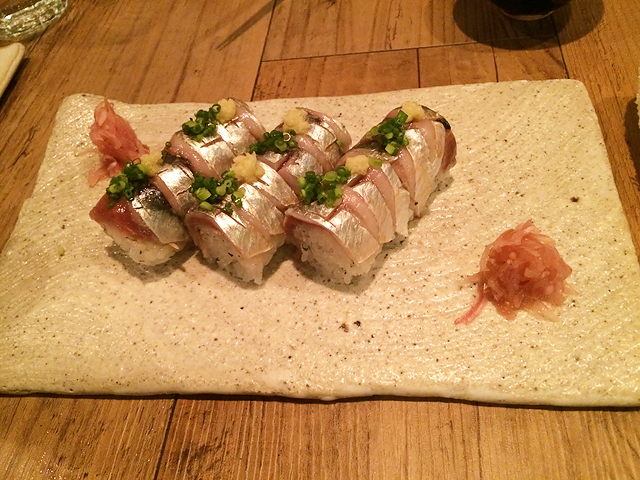 Bo-zushi—sushi made by putting rice and ingredients in a long rectangle mold and pressing it to make the sushi look like "bo", or rod. A fine dish to finish the meal, although I could drink as many as three cups of sake in the least only with this dish.
I ended up drinking too much, because the dishes were so great. Soregashi is a nice place to visit whatever the occasion is—whether you are dating, entertaining your business partner or enjoying with your friend. If you come in a group of sake lovers, you can definitely enjoy yourselves. I also recommended this place for girls because all the staff members are "ikemen", or handsome guys. Pay attention to their arm muscle while they are pouring sake into your glass from a big bottle.
Running under the name of "Soregashi"– a humble word for "I", the place had an air of modesty, which I thought was likeable. I don't know if they chose the name with that intention, though….
Anyway, I'm thinking about visiting the Gotanda outlet, too.
SOREGASHI EBISU
Address: 2-3-11, Ebisu Nishi, Shibuya-ku, Tokyo
Tel: 03-6416-3981
Hours: 5 p.m.-12 a.m., Monday to Friday
3 p.m.-12 a.m., weekends and holidays
Last call at 11:30 p.m.
No regular holidays