Ebisu BeTTei—delicious duck hot pot and Kamakura vegetables
掲載
Osakelistユーザーの評価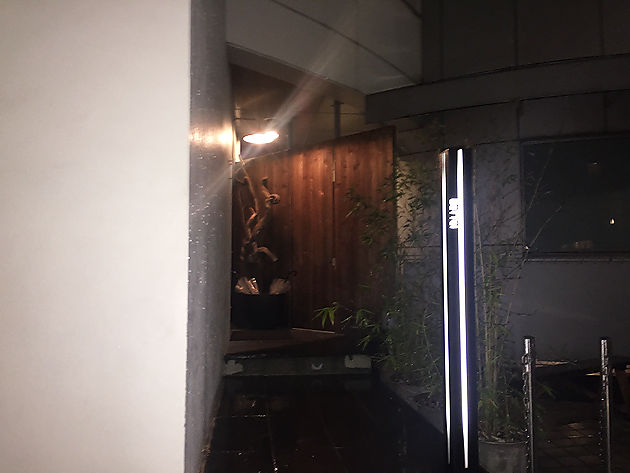 Located within a two minute-walk from Ebisu Station and with its low-ley entrance and hideout ambience, Ebisu Bettei is the best place for a first date or dining with someone older than you or in higher position. It offers sake and authentic Japanese cuisine at reasonable prices under the motto of "Accessible quality new Japanese cuisine that makes our body and mind happier."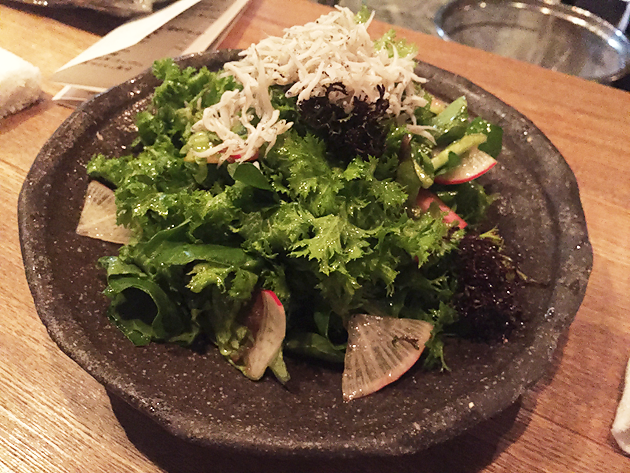 First came the "salad of Kamakura vegetables and Shonan young sardines," a great combination of fresh lush green and sardines. It was generous in portion and addictive in taste.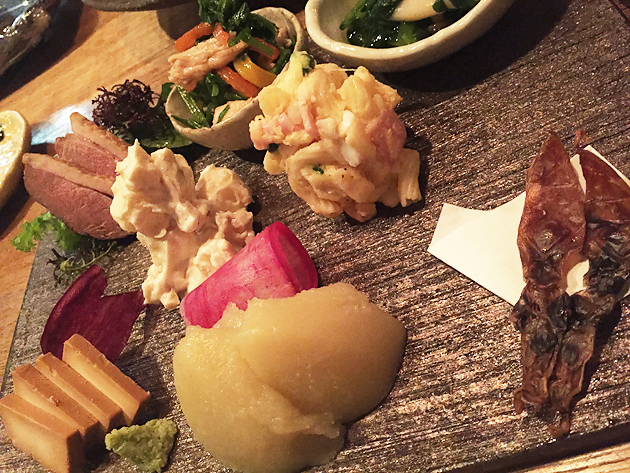 Then came the den's popular menu, "premium plate of Japanese tapas," an assortment of bite-size foods that were a mixture of Japanese and western tastes, representing the very atmosphere of the place. One of the charms of the plate is that these small seven to ten tapas change daily, allowing you to enjoy the plate afresh every time you visit. The day's lineup was: garland chrysanthemum and shimeji mushroom in yuzu citrus-flavored broth, Japanese parsley and duck white meat dressed with mustard-flavored soy sauce, macaroni salad, sweet potato mousse, apple and walnut dressed with tofu-based sauce, turnip and tuna with western-style dressing, dried firefly squid, etc. They were all unique, pleasant to the eye, and enjoyable to the taste buds.
"杜の蔵 一の矢                "杜の蔵 純米吟醸
(Mori-no-Kura Ichi-no-Ya)"          (Mori-no-Kura Jummai Ginjo)"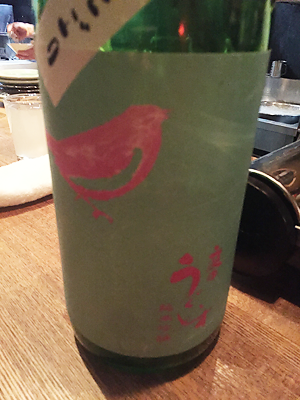 "庭のうぐいす (Niwa-no-Uguisu)"
The sake served here are all jummai-shu (sake with no added alcohol), and you can enjoy different sakes according to the season. Today I tried the pub's recommendation, "Ichi-no-Ya" from the Mori-no-Kura brewery in Fukuoka, which was a slightly cloudy new brew with a full note of rice. Then I tried "Niwa-no-Uguisu" from Yamaguchi Sake Brewery of Fukuoka, which was a freshly-pressed slightly cloudy sake that had a well-balanced mouthfeel.
The duck dishes that go well with jummai-shu will surely make you want more sake, but do not worry; the water used to make "Mori-no-Kura" is available as a chaser, which I think is such a considerate service for sake lovers.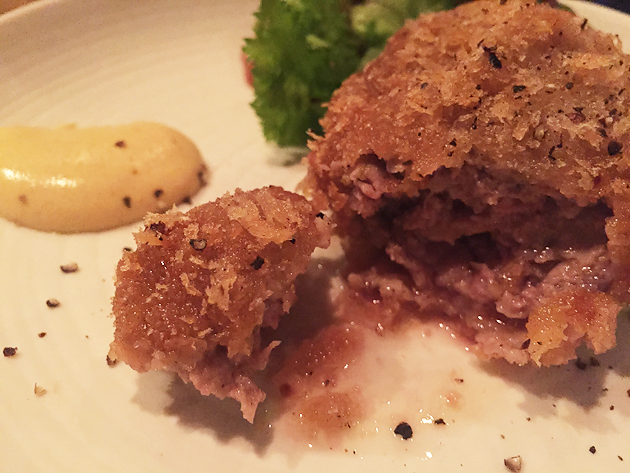 "Deep-fried minced duck ball" made with the "Gin-no-Kamo" brand duck from Aomori was a first-rate dish that had brought out the best of the duck's flavor. It was crunchy outside and succulent inside, and the meat juice flowed out when I cut the ball with the chopsticks.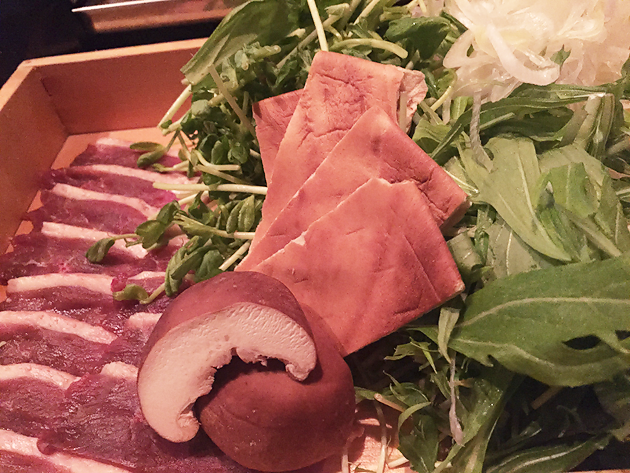 The main dish was "duck shabu-shabu". The moment I put a slice of duck into the pot, an appetizing fragrant aroma wafted over me. I took the meat out of the pot, drained off the excess water, dipped it in the den's specialty sauce, and savored it. The combination of the light sauce and rich fat of the duck was amazing. The more I chewed, the more umami came out of the meat.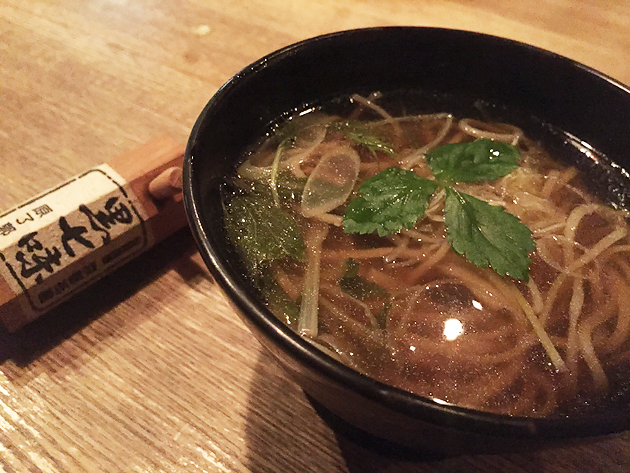 I finished the meal with a small-sized warm soba noodle soup, the chef's signature dish. The noodle, hand-kneaded by the chef, made a great combination with the soup, creating an earthy tastiness that touched my heart.
Try this hideaway for grownups and enjoy delicious duck and sake!
BeTTei
Address: 1-14-15, Ebisu Minami, Shibuya-ku, Tokyo
Tel: 03-6412-7639/ +81-3-6412-7639 (international call)
Hours: 6 p.m.-1 a.m. (last call: 12 a.m.), Monday to Friday
6 p.m.-12 a.m. (last call: 11 p.m.) on Saturdays and public holidays
Closed on Sundays